Clipper Lounge is
a really good buffet in
C
entral
.
It is offering views overlooking Statue Square, the lounge offers breakfast, lunch and dinner buffets as well as legendary afternoon teas.
I've always heard about the good reviews from the Clipper Lounge buffet. F
inally, I had an opportunity with my friends having buffet there.
Seafood bar
Oysters, mussels, crabs' legs, salmons

are all good to try.
Delicious!
Abalones
disappeared FAST!
Absolutely yummy!
The meat comes out so juicy and flavorful!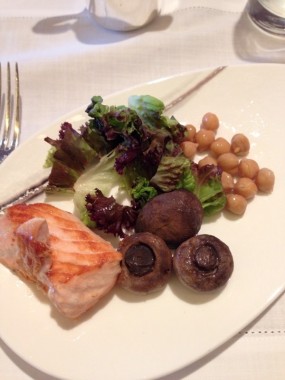 Fatty and thickly sliced.
It is also seared perfectly and served slightly warm!
All the cakes, tarts, and
puddings were amazing!
I wish I could eat more, but we were so full already!
Very smooth! I can pick out the fresh vanilla seed.
Also, it has a nice toffee sauce in the bottom.
The ice cream was creamy and smooth.
The food there was great and fresh. What a great buffet with outstanding food and with friends!
Recommended Dishes:
Tandoori Prawn Salad / Miso Cod / Thai Green Prawn Curry / Rice Rhapsody / Bread butter budding with Vanilla ice-cream
Address
:
M/F, Mandarin Oriental Hong Kong, 5 Connaught Road Central,
Central
Opening hours : Mon.-Sun.: 07:30-22:30
Payment
m
ethod
:
Visa, Master, AE, Cash, JCB

Edited by Hody:
A student of SPD4459 Internet Marketing and Public Relations